Welcome to,
DAYA PUTIH
homepage

THE INDONESIAN
ART OF BREATHING TECHNIQUE,
PHYSICAL AND SPIRITUAL EXCERCISE
Sekretariat : Jl. Andong No 1 YZ, Ubud - Bali - 80571 Phone & Fax. 62.361.975467
Email : dayaputih@hotmail.com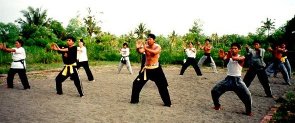 DAYA PUTIH For INNER POWER & INNER BEAUTY Daya :means energy, Putih :means white, sacred or intuition. Daya Putih a spiritual form of exercise which unleashes inner power to maintain purity ; fasting; and making more frequent giving, selfless gestures in our lives. This is not religious practice; it is all part of beauty ritual . It is also part of the Asian ideology that says that a desire to be beautiful is valid; it is not the vacuous pursuit of vanity that tend to be associated with beauty practice in the West. In his treatise Daya Putih for the Inner Beauty, the Grand Master of Daya Putih , Sumadi Kertonegoro, makes the lofty claim that' the path to beauty is the path towards consciousness and the origin and purpose of life' Kertonegoro's path to beauty and life's purpose is through the spiritual pattern of Daya Putih, which claims that the an angels dwell in ourbody's organs and must be assuaged through mindful movement. (Daya Putih as told by Post Magazine, July l9, l998, ed peters) UBUD- BALI : The story starts in the 13th century , but for the sake of brevity let us cut to seven years a go, when Sumadi Kertonegoro was caught unawares at his house in Ubud by young man dashing in to escape the wrath of his father. History doesn't relate what caused the family quarrel, but the older man first tried to attack his son with his first, then swung at him with are hoe and us last resort attempted to dash his brains out with a rock. At the onset of each attack, Sumadi invoked the force of Daya Putih the white power compelling the father to desist by sheer effort of will." I learned Daya Putih when I was17," says Sumadi, who is now 43. "until 1991 he pursued other arts writing, painting and calligraphy and didn't won't to teach. There was only one other potential instructor in the whole of Indonesia, the king of solo's son, but he didn't want to teach either, so it looked us though the art wash going to die out. Then this incident happened and it was like a sing, a portent, telling me what I should do." Now around 50 students a month attend Sumadi school for spiritual exercise, learning to concentrate their breathing ang, for want of a better phrase, inner power. Deriving from Indian, Chinese and Javanese technique which date back 700 years or more, Daya Putih essentially banishes negative forces from the body and using electromagnetic energy protects individuals from outside harm. The result is a more rounded, happy, confident, peaceful and successful individual. Phooey? It's an easy charge to make, but far lees so when on watches Sumadi in action, sending students instructed to attack him into a harmless, dizzy spin. Then two of his class members lift a third using only a sheet of newspaper." I just do this bit for fun a course should not be ultra serious and it's something I only teachmy Indonesian students, not foreigners," he says with a smile. Massage is also part of the regime, employing a therapeutic system, which help to restore the equilibrium by adjusting the spinal discs. Whatever the teaching and its results, there is no doubting the pacific effect of ubud and its surrounds, characterised by swathes of emerald-green rice fields and a lifestyle that moves to the gentle rhythms and soft click of miniature bamboo windmills. When walter spice and other westerners founded an artists' colony here before the war, they were drawn by the creative temperament inherent in every Balinese, as well as the area's natural and spiritual beauty, elements which as still manifest today. Yet since the 1930s it's been a common complaint of return visitors that bali is spoiled, not what used to be. The reverse is true of Sumadi, who has revitalised an ancient art, teaches not for profit but to educate, continues to paint in a style that approximates to Dali but without the pretension and self aggrandisement, and has even appeared in a pop video, acting with perfect equanimity alongside DJ Crow of Germany. This is paradise regained.
---
| home | page1 | page2 | page3 | page4 |
---

Email : dayaputih@hotmail.com
September 1999